Filter by Category
9- Aug 1-5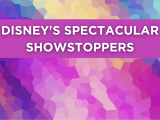 Disney's Spectacular Showstoppers (grades 1-3)

Aug 1, 2022 at 8:30 am

, runs for 1 week
Grades 1 - 3 | 8:30 am - 2:00 pm
From classic tunes to new releases on Disney+, this is your chance to shine through Disney's show stopping hits.  This musical camp will benefit both beginners and confident performers.
*Aftercare available until 5:30 PM for additional $65 per student
Full Course
Hamilton Remix (grades 3-6)

Aug 1, 2022 at 9 am

, runs for 1 week
Grades 3 - 6 | 9:00 am - 2:30 pm
Rise up! Develop your musical theatre skills and celebrate your own unique part of the story.  This class is perfect for all skill levels.
*Aftercare available until 5:30 PM for additional $65 per student
Full Course