Filter by Category
8- July 26-30
Puppet Adventures (grades 1-3)
with Julie Dansby

Jul 26, 2021 at 8:30 am

, runs for 1 week
Grades 1 - 3 | 8:30 am - 2:00 pm
Turn your favorite cartoon characters into your very own puppet! Students will learn about different puppet styles and how to construct and perform puppets of their own creation. 
*Aftercare available until 5:30 PM for additional $65 per student
Full Course
Classic Broadway (grades 3-6)
with Nicholas Wainwright

Jul 26, 2021 at 9 am

, runs for 1 week
Grades 3 - 6 | 9:00 am - 2:30 pm
There's no business like show business! From Oklahoma to Les Miserable, jump into the Broadway masterpieces while developing your performance skills.
*Aftercare available until 5:30 PM for additional $65 per student
Full Course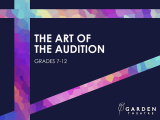 The Art of the Audition (grades 7-12)
with Kyle Laing

Jul 26, 2021 at 2 pm

, runs for 1 week
Grades 7-12 |2:00 - 6:00 PM
Need to prepare an audition for a school play? Want to learn some tricks and tips to become more comfortable auditioning? Spend the week sharpening your auditioning skills (musical theatre and acting)